Best Caribbean Beaches
What are the best Caribbean beaches? That's easy! Come to St Croix and have your socks blown off by the beautiful beaches. (Who needs socks on the beach anyway?) :-)
In our opinion, St Croix beaches are the best in the Caribbean.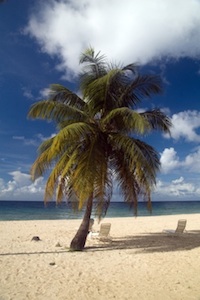 Whether you're looking to sunbathe, people watch, swim, surf, partake in water sports, sip on cocktails, or just relax in general – St Croix offers it all!
The beaches on St Croix are so picturesque… with golden soft sand and crystal clear water.
My family and I have been travelling to St Croix for many years and the incredible beaches are one of the main factors that keep us coming back each year.
So what are the best Caribbean beaches? We assembled a list of the top 5 Caribbean beaches on St Croix… (fyi- it wasn't easy to narrow them down!)
Here they are in descending order:
5. Shoys Beach
It took my family a number of years to discover Shoys Beach. It's right next to the Buccaneer St Croix Resort (where we go all the time) but we never knew Shoys Beach existed until someone told us about it.
To get to Shoys Beach, you enter in through the Buccaneer Hotel's entrance and then take a right into the Shoys subdivision. You make your way through the sea-grape trees and voila! - beautiful Shoys Beach.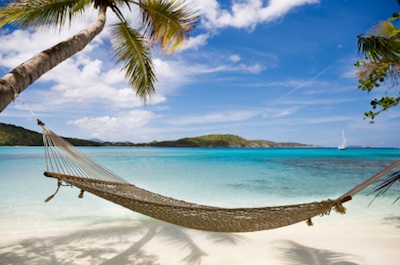 The sandy and grassy bottom make it the perfect swimming beach!
---
4. Carambola Beach Resort
Carambola Beach is my family's second favorite "go-to" beach. The waves can be a little bit bigger here than at the other St Croix beaches, but that makes the perfect conditions for riding waves, skim-boarding, etc.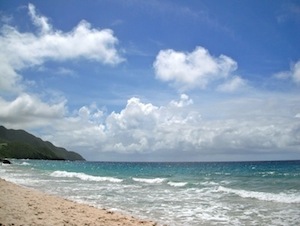 Carambola Beach is attached to the Carambola Resort so there are lounge chairs, umbrellas, a restaurant, and other great amenities.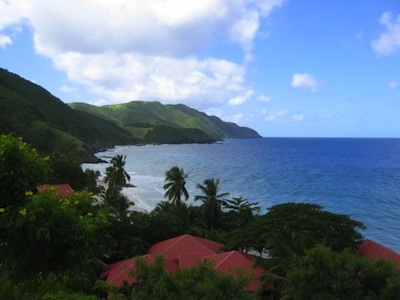 ---
3. Cane Bay
Cane Bay Beach is definitely my family's number one "go-to" beach. We go to Cane Bay almost every other day when we are in St Croix.
It may not be as breaktakingly beautiful as some of the other St Croix beaches, but it's still a great Caribbean beach with tons of fun St Croix activities.
The water is always very calm, which makes it a great beach for young kids and unexperienced swimmers. And if you're interested in St Croix snorkeling or scuba diving, Cane Bay is the place to go!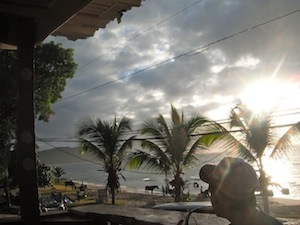 Cane Bay Dive Shop is located directly across the street from the beach, as is a really great, casual restaurant. And the Cane Bay Beach Bar is one of the most popular spots for authentic Caribbean nightlife!
---
2. Turtle Beach, Buck Island
Buck Island's Turtle Beach is truly the most beautiful beach I have ever seen. I only put it second because it's not directly on St Croix.
Buck Island is an uninhabited island located right off the shore of St Croix, so you have to take a quick boat or kayak ride to reach it.
Buck Island Turtle Beach (also called Buck Island Turtle Cove) is one of the best caribbean beaches you will find. It has white powder sand that feels like silk under your feet and the water is so crystal clear you almost can't believe your eyes!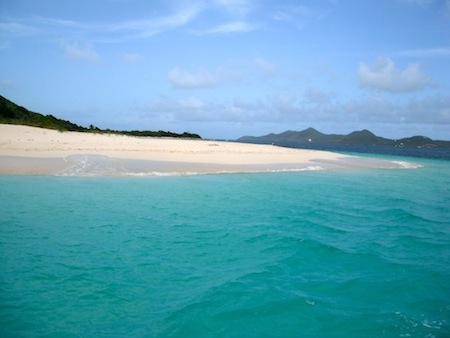 Turtle Beach is also a great place to go because Buck Island snorkeling is some of the best in the entire Caribbean! The Buck Island reef is a National Monument and both the marine life and the island are protected by the government. As a result, Turtle Beach looks like a beautiful untouched paradise.
---
1. Jack's and Isaac's Bay
It took my family quite a few years of exploring and making friends with the locals before we discovered these two spectacular beaches!
They are considered secret hidden gems of the island. Come to think of it, I hope St Croix residents don't get mad at me for sharing this information with you! ;-) But these two St Croix beaches are just too beautiful not to share!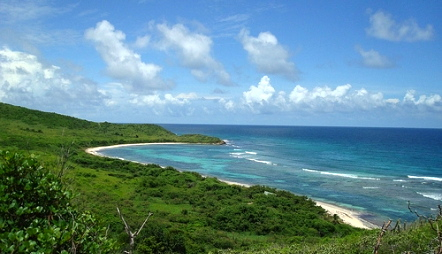 Getting to Jack's and Isaac's Bay takes a little bit of a hike, but it is well worth the effort! To get there, you simply park on the side of the road by Point Udall and then hike down the dirt road on the right.
The first beach is Issac's, which is beautiful on it's own. But if you continue on and hike over the small peninsula to Jack's Bay...the view will literally take your breath away!
Jack's Bay looks like a picture from a Caribbean postcard! It's one of the best Caribbean beaches I have ever seen.
The land is protected by the Nature Conservancy and guided hikes are also available. Jack's Bay is definitely my favorite of the St Croix beaches because it is so remote and picturesque.
But, that said, there are no restaurants or other facilities on Jack's and Isaac's Bay so don't go here if you're looking to have lunch or lay on resort beach chairs. There are plenty of beaches that offer those amenities listed above though!
Return from Best Caribbean Beaches to Best Caribbean Island

Return from Best Caribbean Beaches to St Croix Gems