St Croix Snorkeling
St Croix snorkeling is some of the best in the entire Caribbean. The water is clear blue and there are tons of colorful fish and interesting sea life.
When you put on your snorkeling mask and take that first peak beneath the water's surface, you feel like you're stepping into a entirely new world!
Colorful fish and sea life swarm around vibrant pieces of coral and lush underwater vegetation. And the entire experience is somehow relaxing and yet exhilerating at the same time!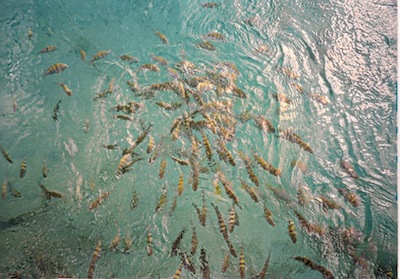 St Croix snorkeling is the perfect family activity because people of all ages can enjoy it. My family and I have been going to St Croix for over 25 years and snorkeling is one of our top choices for best St Croix activities.
St Croix offers some of the best Caribbean snorkeling, but the trick is knowing the absolute top places to go. If you're looking for an experience beyond anything you've ever seen, Buck Island snorkeling is the most highy recommended snorkeling spot in the Caribbean Sea.
My family and I go to Buck Island nearly every time we visit St Croix because the underwater trails are so incredible. But we also have several other favorite snorkeling spots.
Favorite places for St Croix snorkeling:
Cane Bay...
Cane Bay is one of my family's favorite beaches on St Croix. There is a great variety of sea life and the water is generally always calm (which makes snorkeling for young kids even better!) One of the best parts about Cane Bay is that the Cane Bay Dive Shop is right across the street. They have all the equipment you could possibly need for snorkeling there. The Dive Shop is also a great resource if you're interested in St Croix scuba diving

(Here I am snorkeling at Cane Bay when I was younger)

Frederiksted Pier...
The Frederiksted pier is the best place to snorkel on the west end of St Croix. The pier is supported by pillars under the water which are covered with vibrant coral that has grown over the years. This coral allows all kinds of colorful fish and interesting sea life to thrive. Because this is such a good snorkeling spot, there are multiple places that offer guided snorkel tours around the pier.
Salt River Bay...
Salt River Bay is a National Historical Park and Ecological Preserve. It preserves some of the largest remaining mangrove forests in the Virgin Islands, as well as coral reefs and a submarine canyon. Salt River Bay is home to tons of beautiful fish and interesting sea life. The Salt River Marina can help you with your snorkeling needs.


(A beautiful conch shell we found while snorkeling in Salt River Bay)




*Fun Fact*- Salt River bay contains the only known site where Christopher Columbus set foot on what is now United States territory during his expedition in 1493.
Return from St Croix Snorkeling to St Croix Activities

Return from St Croix Snorkeling to St Croix Gems