Hurricane Hugo
Hurricane Hugo was a destructive Category 5 hurricane that struck Guadeloupe, Montserrat, St. Croix, Puerto Rico, Antigua and South Carolina in September of the 1989 Caribbean hurricane season.
Hugo caused 56 fatalities, left nearly 100,000 homeless, and resulted in over $10 billion in damage overall. It was the most damaging hurricane ever recorded at that particular time.
The origins of Hurricane Hugo were from a cluster of thunderstorms that moved off the coast of Africa on September 9. It was soon classified as Tropical Depression Eleven. The maximum sustained winds were soon at hurricane force, and it became Hurricane Hugo on September 13.
After this point, Hugo began to rapidly deepen, becoming a major hurricane early the next morning.
Severe damage was reported throughout the islands of the Caribbean. The storm caused an estimated $3 billion in damages in the Caribbean (including $1 billion in Puerto Rico and the USVI.)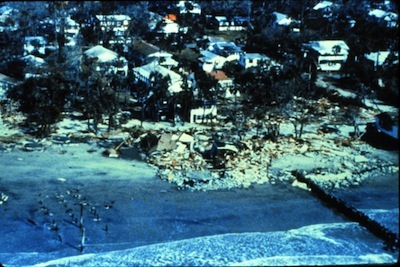 St. Croix
The slower speed allowed Hugo to punish the island of St. Croix with the worst beating of any location along the hurricane's destructive path. At 2 am on September 18, Hugo's eyewall struck St. Croix, bringing incredibly ferocious Category 4 winds.
The hurricane's gusts were very violent and many residents witnessed tornado-like vortices across the island. A storm surge of 2–3 ft, topped by waves 20–23 ft high, hit the coast, adding to the destruction.
There was massive looting and unrest. As a result, President George H.W. Bush sent troops to St. Croix in Operation Hawkeye.
It also resulted in the first operational deployment of the National Disaster Medical System (NDMS) to assist in medical care needs of the stricken island.



Return from Hurricane Hugo to St Croix Weather

Return from Hurricane Hugo to St Croix Gems